A few weeks ago I signed up to test out the Vega Sport Energy Bars. I was super excited to take advantage of this opportunity because my only previous experience with Vega was at the SeaWheeze last year and I was soooo not a fan. So when Sweat Pink collaborated with Vega to launch this review campaign I jumped on board. And after a week with the Vega Sport Energy Bars, I can officially say my opinions of Vega have shifted and I am a Vega believer!
Vega recently launch the Fuel Your Better initiative. This movement is about pushing beyond your limit and expanding your abilities. Along with inspiring new limits, the campaign highlights the Vega Sport Prepare, Sustain, & Recover  products. As you can see, Vega sent me a box of the Chocolate Coconut Almond flavored Vega Sport Energy Bars which is part of the Sustain line, meaning the bars are meant to be taken for immediate + sustained energy.

Okay, okay enough rambling, it's time to get to the review so you can decide if this product is right for you….
- Ingredients: The bars are plant based, gluten free, and non-GMO! So even before tasting them, Vega had me very intrigued.
- Flavor + Texture: When I saw the coconut flavor I was a bit worried because I am not a big coconut fan, unless it's in a pina colada. But from the first bite I was hooked! I love the flavor! They were seriously as moist and delicious as Vega claims on the box! I know they sent me this stuff for to test out and you may think I am exaggerating, but I promise you they are delicious.
- Instant Energy: Just as Vega claims, these bars provide quick and lasting energy! I decided put them to the test by eating one just before a run. Generally, I have to avoid even light snacks just before a run. But these bars were a different story. I ate it just before I stepped out the door and had zero cramping throughout the entire run.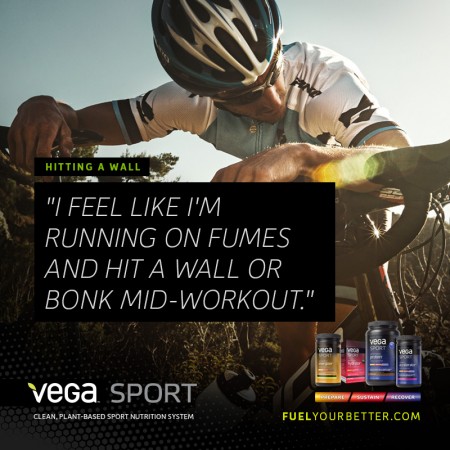 There really was not much to dislike about the energy bars. But nothing is perfect, so let's take a look at my two tiny complaints.
- Upset Stomach: Before I scare you off let me clarify that this only happened when using the bars to fuel my run. The constant pounding did not help it sit well in my stomach, which is also why I do not do gels when I run. In the future, I'll stick to using the Sport Energy Bars before cycling, swimming, hiking, and other non pounding activities.
- Cost: I know this box was sent to me. But as soon as I took one bite I had to check out the price for future purchases. Each bar is about $3/bar. I know it is pricey but definitely get what you pay for and this is a quality product!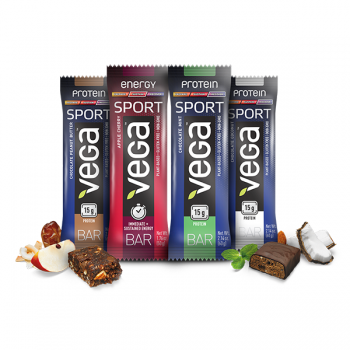 Would I recommend it to a friend? 
Absolutely yes!!! If you are looking for a delicious and healthy energizing snack, this is the product for you! Right now Vega has a sample deal going on their site. If want to test it out I would jump on this sampler pack.
A final note…
Vega, thank you for sending me these yummy bars to test out!!! I greatly appreciate it and if you ever want to test out some product again, just let me know:)