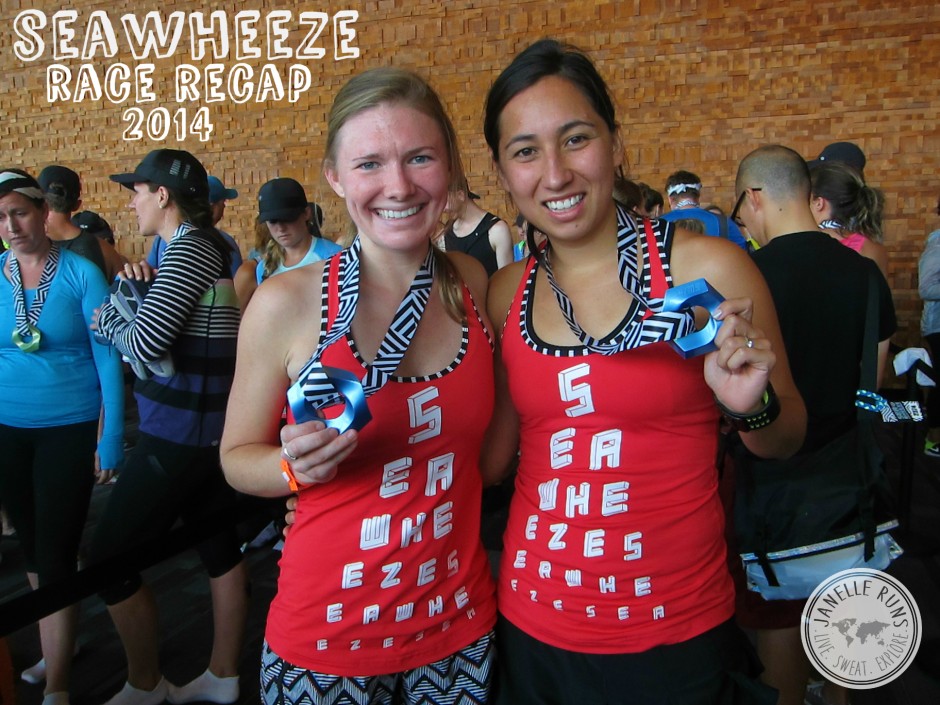 Pre-Race: Parking, Bag Check, Race Corals  
Our day started out nice and early. Since we live about an hour outside of Vancouver we had to hit the road by 5:30. Actually this ended up being a little late and by the time we were in Vancouver, the streets to my favorite parking spot we blocked off. Oh well, we found another place and parked by 6:40ish (Note: If you park in a new place, make sure you take a photo to remember where you parked….yes, we wondered for a awhile after the race…ha).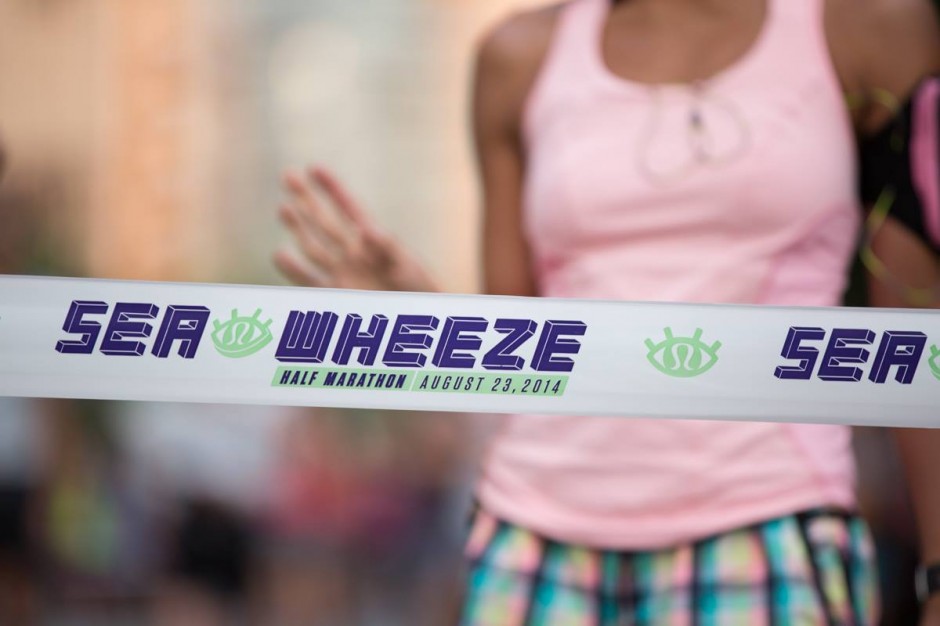 After parking we followed the other runners to the Vancouver Convention Center for bag check and a pre-race bathroom stop. As part of our race swag we each got a messenger bag to use for gear check. We both checked a bag with our post race essentials: comfy flip-flops, leggings, jacket, clean shirt, etc. After a quick pit stop we were out to the corals.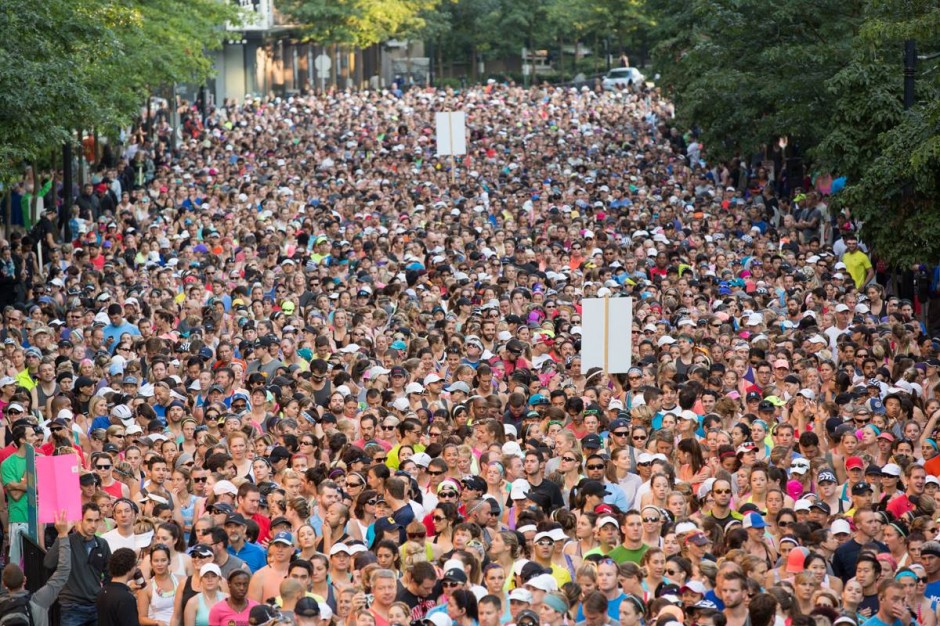 Ready, Set, Go! 
The race officially began at 7am. Since we got there so late, we started pretty far back. We probably crossed the timing mat about 45 minutes after the gun. Our race plan was pretty simple, finish:) Lori flew in from London after an extended tour of Europe, so our only goal was to have fun and finish. We decided we would run a 1.5 miles and then walk for 5 minutes + walk through aid stations.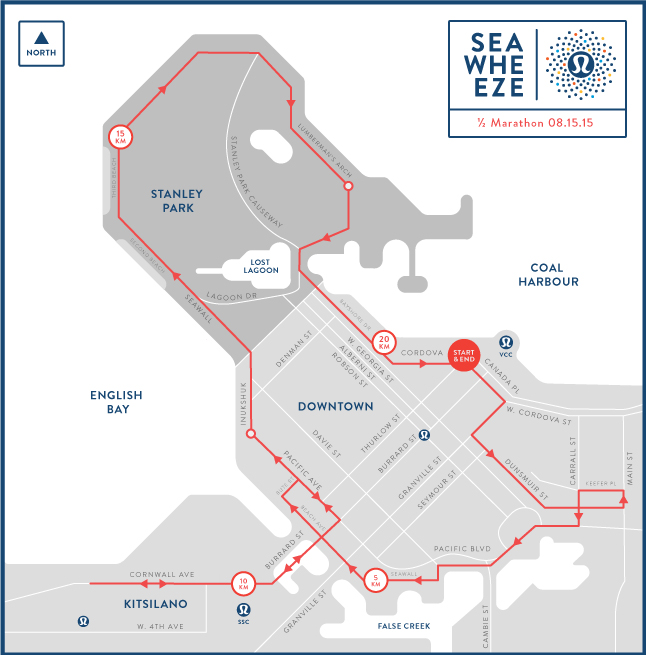 The Course
This is probably one of my favorite race courses! How can you beat five miles of the Seawall, one of my favorite running routes in the world? . The course is quite flat with only a few hills at the bridge and the last kicker. Since we started towards the back with the 2:30 pace beavers, there was a comfortable amount of crowd the majority of the race and by the time we go to Stanley Park we were quite spaced out.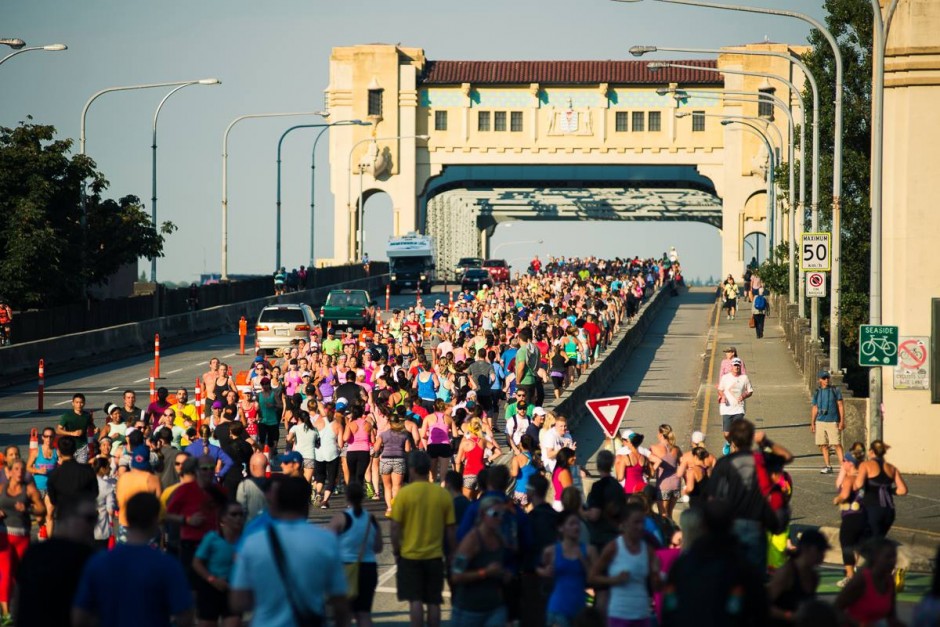 Finish Strong!
The last km is uphill, an unfortunate ending to a race. But to have the staring and finishing line at the same place there's no way around it. Anyways, it goes by pretty fast because you are so focused on crossing the finish line! Our splits weren't great but we stayed consistent and felt good the entire race. By the time we were exiting Stanley Park for the final stretch, I was really hoping that we could get under 2:30. We were just on target but that final hill had other plans for us, 2:30:39. So close, oh well it's okay. We were still pretty happy with our race experience!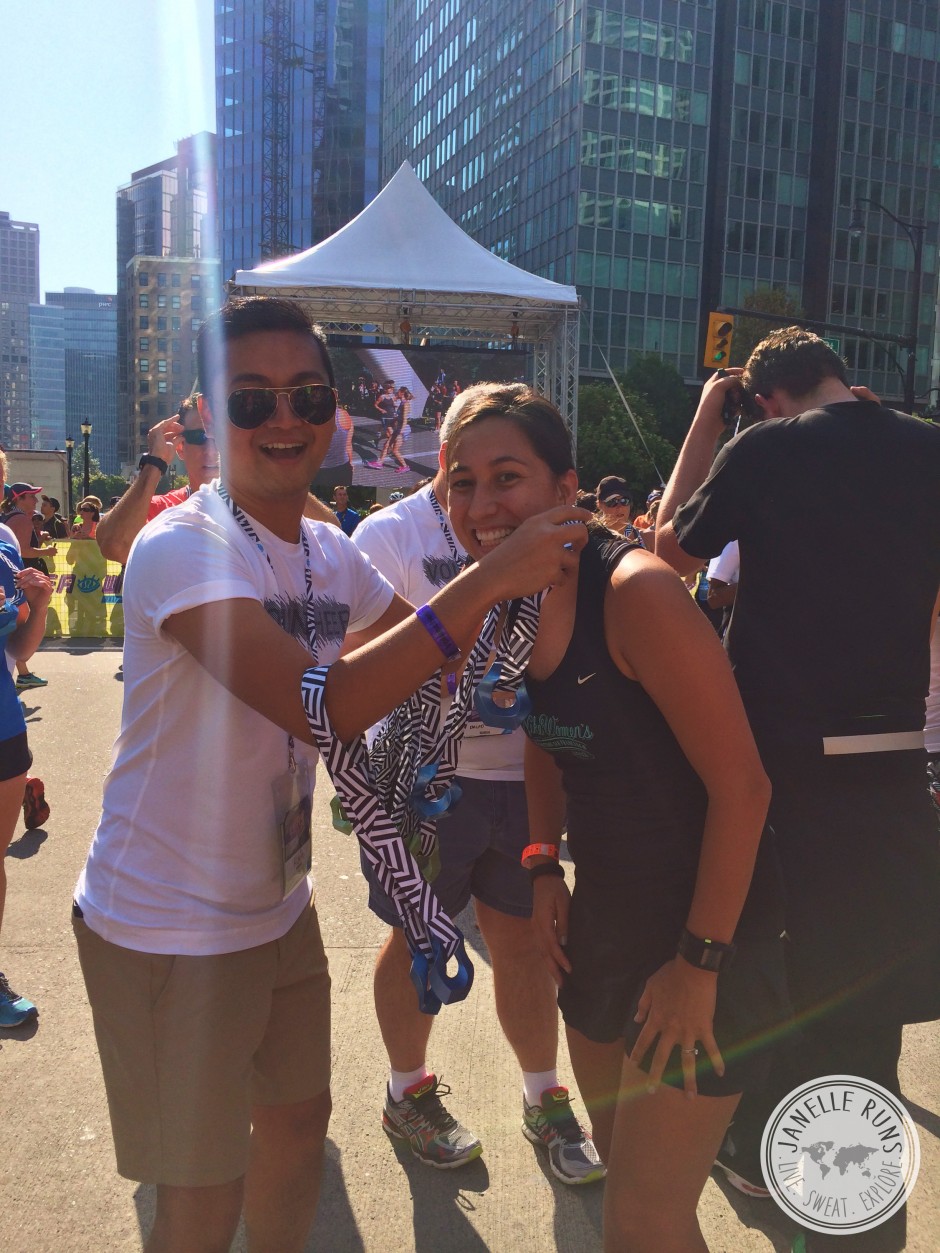 Finish Line
As soon as we crossed the finish line we were handed our medal and ushered in to the finishing chute. It was very, very, very crowded and we were at a complete stand still for a little bit. Once we were in the tent they gave us a bottle of water, little bag of Sage products, a wet towel, coconut water, and a lululemon hat. My hands were overflowing:)
::Note to lululemon (because I am sure you are reading this..haha):: 
I have an idea for making the finishing chute and brunch line flow more efficiently. I suggest having the finishing chute continue down Cordova Street rather than turning towards the Convention Center. Runners could still receive their medals right after crossing the finish line. But instead of handing out the water, Sage products, wet towels, hats (or whatever swag you have next year), coconut water, and brunch (all you would have to do is add a lid to the current food container) individually, have all of this ready to go in a bag (doesn't have to be a fancy bag, just one of your famous shopping bags would be awesome!) for each runner. Then set up four or more rows of tables going down Cordova. This way runners only have one item to keep track of since we will be wearing our medals:) This would eliminate the major bottle neck at the finish line and the loooong lines for brunch while also greatly reducing the number of volunteers. I think runners would looove these changes!!!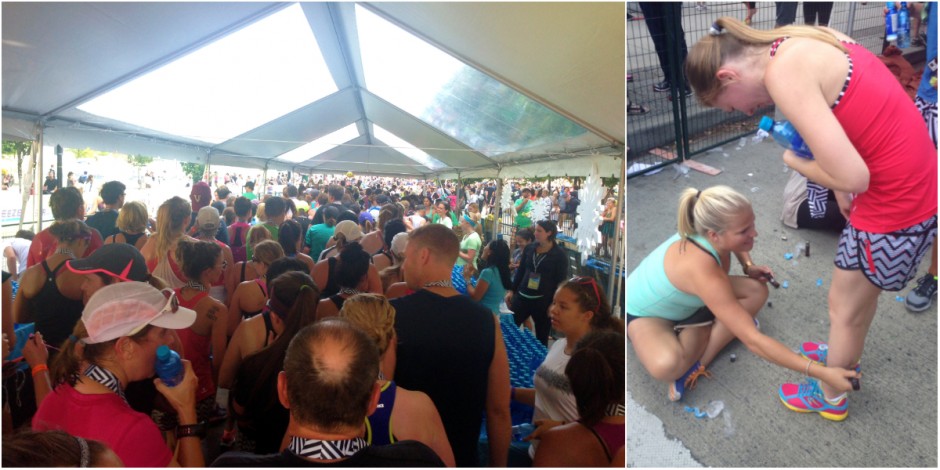 A very crowded finishers' tent and a Sage employee applying recovery oils on Lori's legs
Once we made it through the finishing chute, we were directed to either get in line for brunch or to go to bag check. We opted to go get our bags and then wait in line for the post-race massages. Last year, it was 15 minutes of bliss. This year, the wait was the same (about an hour) but our massage was only about 5 minute longs:( Definitely not worth the wait this time around. We still had a good time in line, we actually met some people who went to Southern and Loma Linda with Lori. Crazy!
Post-Race Brunch 
The brunch menu was a mini Quiche, two delicious waffles with blueberry topping, greek yogurt, and fresh fruit. Not great for a vegan but still yummy. I was actually kind of surprised there was nothing vegan because that is right up every yogis' alley.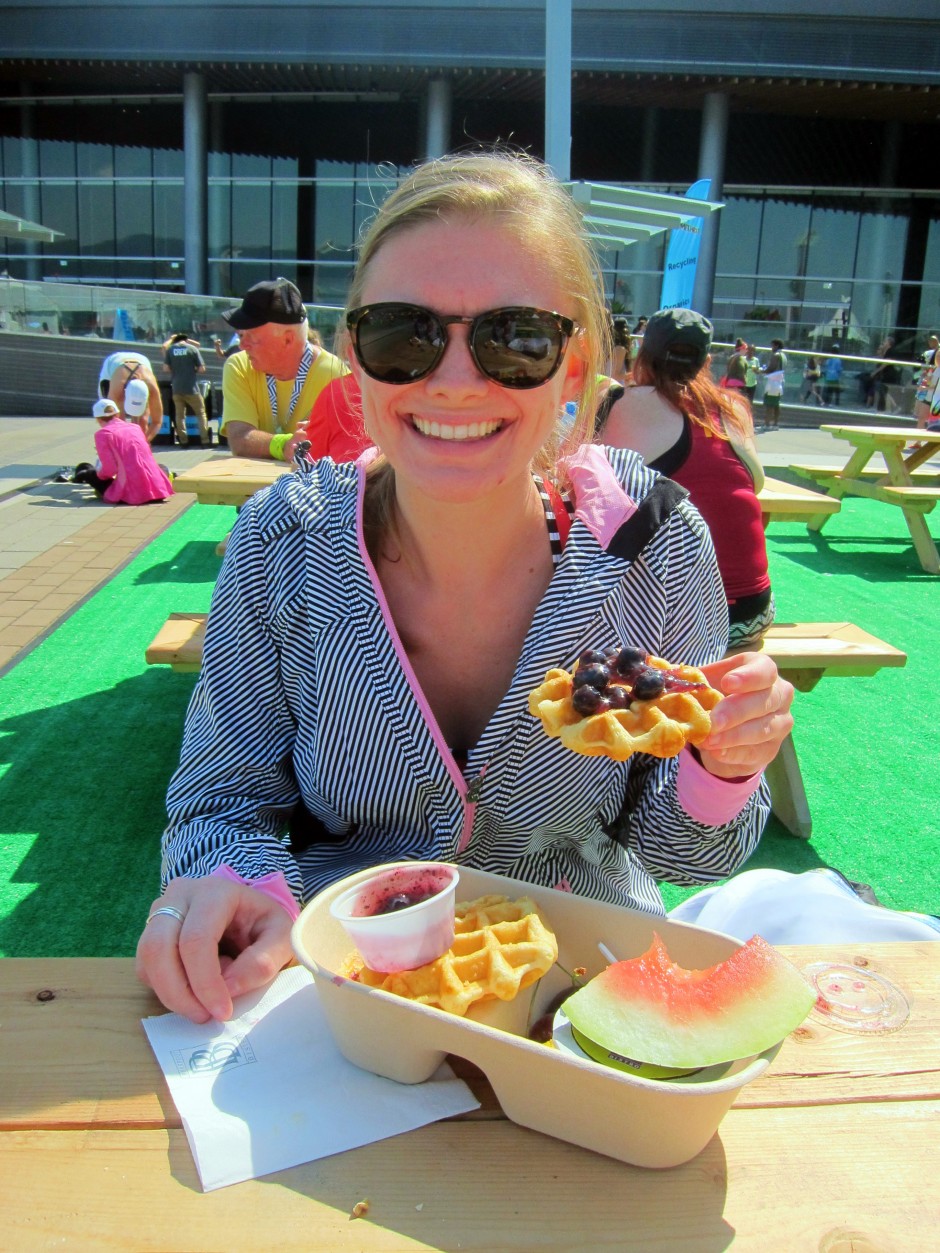 It was a great race and the run was only a portion of the lululemon fun! Stay tuned for a post about the SeaWheeze Showcase store on Friday and our post race wanderings:)